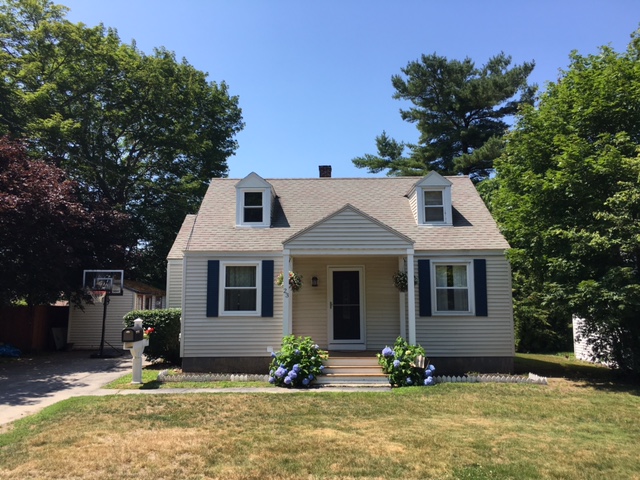 Right in the heart of Cape Elizabeth – known for its dramatic oceanfront mansions and stately executive homes on meticulously-maintained cul-de-sacs – is a terrific little neighborhood known simply as "The Park."
The homes in the park were originally built as military housing for the soldiers – and their families – stationed at nearby Fort Williams during World War II. Almost all of them were built in the early 1940s. Out of a sense of efficiency, the homes were all built with two bedrooms on the first floor, a bathroom, a kitchen, and a living room. A steep set of stairs led to an unfinished attic. The homes are well-built and have stood the test of time beautifully.
One of the great things about The Park is its "stepped" feel; there are different levels of homes as the streets wander through the neighborhood's acreage. After the war, the homes were sold off to the general public, and thanks to the passage of time, each home has developed its own identity. This is a proud neighborhood, and the homes are well maintained. Neighbors know each other, the roads are filled with kids on bikes, walkers (with and without dogs) and runners.
23 Orchard Road has been loved. The home feels like its occupants have taken care of it, have wanted to be there, have made the home part of the family. It has been expanded both outwardly and in the back to offer an extended breakfast nook in the kitchen and a sizable dining area off the updated kitchen. The kitchen now features a cathedral ceiling with a skylight which allows sunlight to stream into the room throughout the day. Off the kitchen is a picture-perfect two-year-old deck that is tucked away so perfectly that one can imagine whiling away hours with a good book and complete privacy.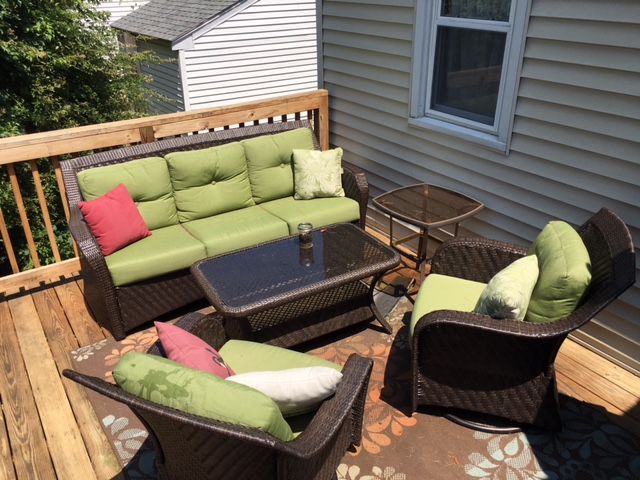 The newly renovated bathroom is everything one needs and nothing one doesn't. Sprawling bathrooms capable of holding conferences might be the rage now (for reasons that will forever escape me), but 23 Orchard's bathroom is functionally perfect and attractive to the eye and doesn't waste an ounce of true living space.
The two first floor bedrooms feature hardwood floors, large windows and plenty of room. The third bedroom is up that steep, cool stairway, and is accessed by passing through a room that could serve any number of purposes; office, TV room, library. The living room is perfect for a couch and love seat, coffee table and room to spare. It is sunny and pleasant with good quality hardwood flooring.
The basement is full, dry, and functional. Currently it serves as the laundry and storage area.
The yard is a gardener's paradise. The back slopes away and would be PERFECT for a stepped landscape filled with a variety of plants. The current owners have a fire pit tucked into a corner of the yard overlooking this expanse of lawn. A small, weathered shed with a beautiful antique door with brass knocker is a fun addition to the home. The driveway is more than big enough for two full-sized cars, plus bikes, and a basketball hoop.
This home is a rare opportunity in a much-sought-after neighborhood in an incredible town that has a second-to-none school system, a brilliant comprehensive plan and a commitment to maintaining extensive open spaces.
23 Orchard Road is offered at $250,000. A beautiful Virtual Home Tour by Maine Virual Home Tours is here: http://mainevirtualhometours.com/tour/23_Orchard_R…
An open house will be held Sunday, July 23 from 1 pm to 3 pm. I look forward to seeing you there.